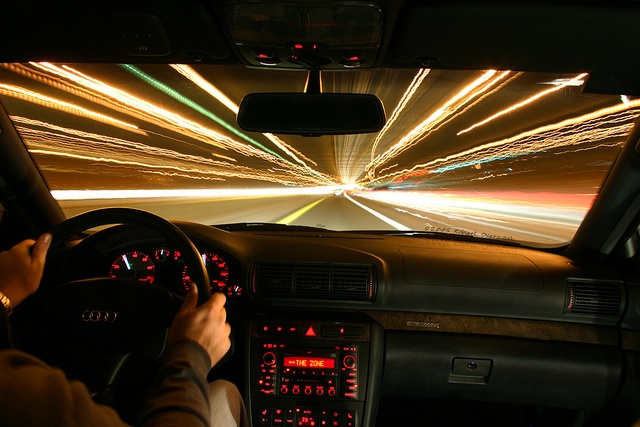 So now that my finals are over and I don't have to worry about school for another four weeks or so, I can finally post more often (that is as long as I'm not hung over). Today's post is going to be a calm one. After the hectic week of finals and whatnot, I figured that a nice, soothing night driving mix was in order. I came to the conclusion of making the mix because as I was sitting in traffic on my way home from work this evening, I was overwhelmed by how the music pumping through my factory direct standard stereo system in my car was keeping me from scooping my own eyeballs out with a spoon. So I figured it would be a good idea to do a nice soothing mix, with the occasional up-tempo song to keep things interesting, and since it doesn't necessary include songs specifically related to driving, I suppose you could call it a "chill" mix, or a "post-hangover" one, or even a "sleepy time lullaby" mix. Whatever you call it, I hope you enjoy (along with all of these really rad night driving pics).
1.
DeVotchKa - How It Ends
2.
The Album Leaf - Over the Pond
3.
Thom Yorke - Atoms for Peace
4.
Greg Weeks - Made
- somewhat creepy, especially after you watch this
commercial
.
5.
Notwist - Consequence
- the
album
is amazing. Pick it up, I command you!
6.
The Smiths - How Soon Is Now
7.
Mogwai - Helicon 1
8.
Sigur Ros - Olsen Olsen
9.
Sparrow House - When I Am Gone
10.
Belle & Sebastian - Sleep Around the Clock
11.
The Album Leaf - Into the Sea
12.
Spoon - Everything Disco
13.
Radiohead - Packt Like Sardines in a Crushd Tin Box
14.
65 Days of Static - Drive Through Ghosts to Get Here
15.
Explosions in the Sky - Welcome, Ghosts